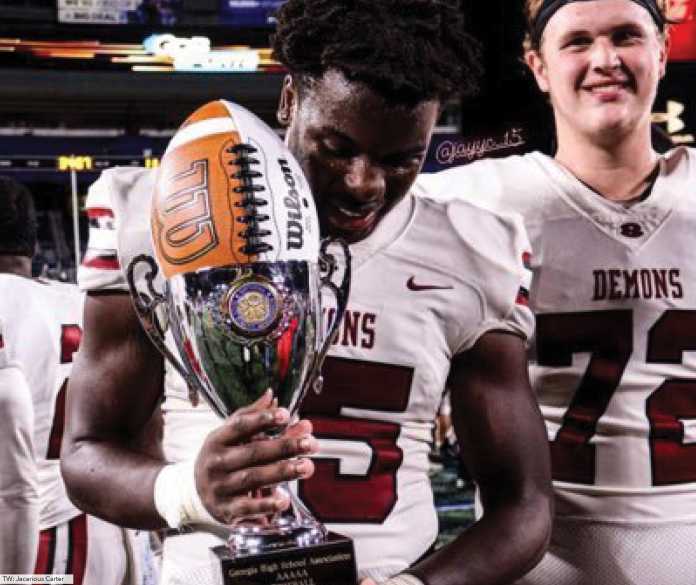 Warner Robins LB Jacarious Carter Voted ITG Next Georgia December Male Athlete of the Month
Jacarious "Jay" Carter has been voted the ITG Next Georgia Male Athlete of the Month for December.
Carter is a senior linebacker for the Warner Robins Demons and was a big part of the defensive unit that helped secure a second straight state championship for Warner Robins and coach Marquis Westbrook.
In fact, it was Carter's touchdown-saving tackle at the goal line against Cartersville that stuffed the Purple Hurricanes' attempt to score a TD that would have potentially tied the game in Round 2 of the GHSA State playoffs. But, with Carter's tackle, Cartersville turned the ball over on downs, and it secured the win for the Demons, allowing them to move on to the quarterfinals. 
From there, Warner Robins and Carter went on to capture the state title over Calhoun. 
Westbrook did not hesitate in his praise of Carter. 
"Jay has been the heart and soul of our team," Westbrook said. "He isn't the fastest or the biggest player on the field, but he sure plays like a giant. He is as tough as nails and does whatever it takes to get the job done. I don't know where this team would be without him." 
Carter was nominated for his outstanding performance in November, as the standout LB collected 36 tackles plus two sacks, and he even added two catches for 19 yards and scored a TD. 
Carter plays TE on offense as well, and although he is used primarily as a blocking TE, he can obviously serve as another offensive weapon for the Demons' prolific offensive unit. 
For the season, Carter totaled 130 tackles and nine sacks with 23 tackles for loss. He averaged 9.3 tackles per game. He was also credited with 27 QB hurries. Carter also caused a fumble and recovered two more fumbles this season, one of which he returned for a TD (known as a "scoop and score"). 
"Him🦍" pic.twitter.com/Tiztvhpcck

— Jay Carter (@CarterJacarious) November 28, 2021
Westbrook said that Carter has been heavily recruited, but as of this story, he had not yet made a decision about where he will continue his football career at the next level. 
Carter was nominated for the Male Athlete of the Month award along with three other candidates: Roswell QB Robbie Roper, Benedictine WR/DB Justin Thomas, and Carrollton QB MJ Morris. Carter received 82.64% of the vote.
Congratulations to Jacarious "Jay" Carter, our ITG Next Georgia December Male Athlete of the Month.
Written by: Phil Jones