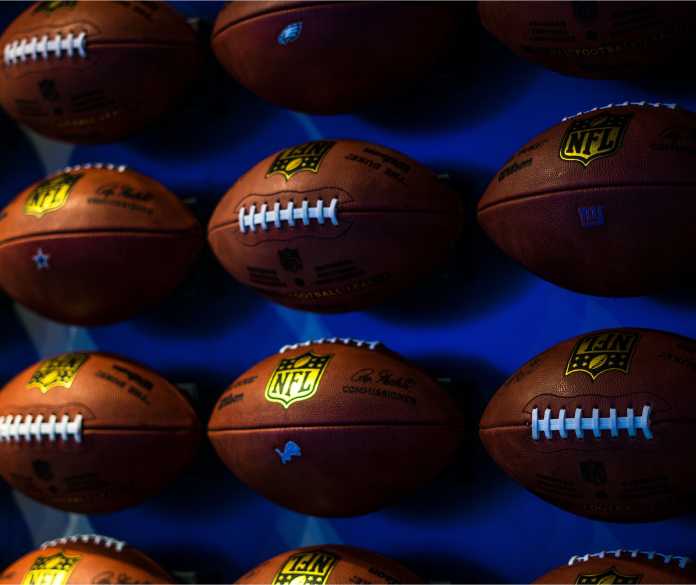 This past Sunday marked Father's Day across the United States. Several sons have followed in their fathers' footsteps athletically, especially in the game of football. Last weekend, the NFL's Instagram page listed 10 iconic father-son duos. Here are the histories behind those players.
1. Asante Samuel and Asante Samuel Jr. 
Asante Samuel played high school football at Boyd Anderson in Florida, starting his career as a quarterback before transitioning to cornerback in his senior year. 
Asante Samuel Jr. starred at the prestigious St. Thomas Aquinas, near his father's own alma mater. Just as his father did, Samuel Jr. played cornerback and was rated as a four-star prospect when he committed to Florida State.
2. Antoine Winfield Sr. and Antoine Winfield Jr. 
Both father and son starred in the secondary during their developmental and professional careers. Antoine Winfield Sr. played high school football at Garfield (OH), but Antoine Winfield Jr. had a different experience, starting in Minnesota at Eden Prairie and ending in The Woodlands (TX). 
Both played college football in the Big Ten and were drafted to the NFL in the first two rounds.
3. Michael Pittman Sr. and Michael Pittman Jr. 
The senior and junior Pittmans both began their high school careers in California, but at different schools. Michael Pittman Sr. dominated defenses as a running back at Mira Mesa in San Diego, while Michael Pittman Jr. beat secondaries with his amazing hands at Oaks Christian. 
Pittman Jr. quickly became a highly-touted prospect and played college football at USC, while his father continued his wrecking-ball style of rushing at Fresno State.
4. Randy Moss and Thaddeus Moss 
Randy Moss was one of the NFL's greatest receivers ever, but he began his career humbly at now-defunct DuPont in West Virginia. After a tumultuous senior year that involved a school fight, he settled on Florida State, but later transferred to Marshall despite his obvious talent. 
While Thaddeus Moss did not experience the same chaos, he transferred to five different schools in his high school career, ending up at Mallard Creek (NC), where he caught 13 touchdowns his senior year en route to a successful LSU career.
5. Ed McCaffrey and Christian McCaffrey 
While Christian McCaffrey followed in his wide receiver father's footsteps by playing college football at Stanford, he starred in Colorado at Valor Christian during his high school years, whereas his father played at Allentown Central Catholic (PA). Christian McCaffrey broke several state records in high school as wide receiver, running back, and cornerback. 
Currently, the McCaffrey family is one of the most athletic nationwide, with several relatives involved in a variety of sports.
6. Shawn Jefferson and Van Jefferson 
Raines High School in Florida was Shawn Jefferson's home for four years, and he stayed in the same state for college football at UCF. 
Van McCaffrey, on the other hand, attended Ole Miss after four successful seasons at Ravenwood (TN), where he caught 27 touchdowns during his junior and senior years. Eventually, he transferred to his birth state of Florida to play for the Gators.
7. Bobby Humphrey and Marlon Humphrey 
Not much is known about Bobby Humphrey's high school career at Glenn (which no longer exists) in Birmingham, Alabama. However, in college with the Crimson Tide, he became the feature running back, being named an All-American soon after. 
Marlon Humphrey's upbringing was much more storied, as the five-star prospect dominated on a successful Hoover (AL) team. Just like his father, he played at Alabama, setting the foundation for a reliable NFL career as a first-round draft pick.
8. Devin Bush Sr. and Devin Bush Jr. 
Despite attending different high schools in Florida (Hialeah-Miami Lakes and Flanagan, respectively), Bush Sr. and Bush Jr. reconnected at the University of Michigan, with Bush Sr. as a defensive analyst during Bush Jr.'s college career. Bush Jr. rejected a scholarship offer from his father's alma mater, Florida State, leading Michigan coach Jim Harbaugh to invite Bush Sr. to Ann Arbor to be with his son.
9. Craig Heyward and Cameron Heyward 
This father-son duo had vastly different careers, both growing up and professionally. Craig Heyward played high school football as a fullback at Passaic in New Jersey, while his son tortured opposing offensive lines in Suwanee, Georgia, at Peachtree Ridge. 
Craig Heyward attended Pitt and went on to play for five different NFL teams, and Cam Heyward attended Ohio State, after which he was drafted by the Steelers, where he has remained since.
10. Patrick Surtain and Patrick Surtain II 
Patrick Surtain began his high school career as a quarterback at Edna Karr (LA), where he rushed more often than he passed. In college at Southern Miss, he switched to defensive back and thrived. 
Those defensive genes were passed down to Surtain II, who locked down wide receivers as a five-star recruit from American Heritage (FL). He was taken ninth overall in the 2021 NFL Draft out of Alabama.