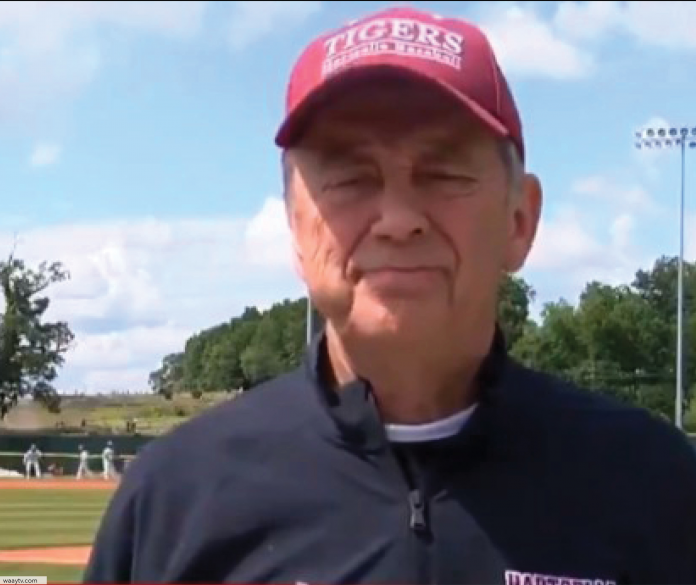 Hartselle Baseball Coach in Battle for Life
Players of any sport know how important a head coach is to the team. They not only guide their student athletes through the game, but they guide them through life as well. Hartselle baseball is rallying around coach William Booth.
The Hall of Fame and all-time winningest coach in the state has recently found himself in the battle of his life.
Nine weeks ago, Booth was diagnosed with cancer of the stomach, intestines and liver.
"I was caught completely off guard," Booth said to Bill Lumpkin III of al.com. "I was just at Vanderbilt [Medical] a year ago, and they were telling me how 100 people would like to have my body."
After not being able to keep any form of food down around a month ago, Booth was brought in by doctors to examine a potential lower G.I. problem.
"They told me I needed to come back for another one, and then I knew I was in trouble," Booth said.
Just as the No. 6 Tigers were prepping to face No. 7 Chelsea in the AHSAA semifinals in a best-of-three series, their head coach was starting his ninth week of chemotherapy.
Hartselle won Game 3 by a score of 10-2 to advance to the state finals at Montgomery's Paterson Field against No. 1 Faith Academy.
"It just zaps you," Booth said of his chemotherapy treatments. "You can't eat anything. You're tired. I pretty much sleep all day the second day. Then, I try and go to baseball practice. I haven't missed too many practices."
Booth will have a scan the first week of June to see if the chemotherapy is doing its job.
He used to joke that he would like to coach until he died. Now, he just takes it one day at a time.
The Hartselle team and community have adopted the mantra "Balling for Booth." T-shirts and banners adorn the people and community of Hartselle everywhere you look.
Before the semifinal game against Chelsea, 50 former Tiger players showed up to honor Booth.
"He's such a legend around here and has been here for just years and years," Grayson Bray, a former pitcher for Booth and the Tigers, said. "It was pretty emotional out there today."
With more than 1,100 career wins, Booth estimates he's in the top five nationally in all-time wins. He became the winningest baseball coach in the state of Alabama in 2006.
For the first time since 2013, the Tigers have the chance to bring a state title back to their community.
"I still love what I'm doing," Booth said. "I love being around the kids."
While a state championship series looms, a far more important battle continues to rage on.
"This is a tough fight," Booth said. "Hopefully, this is something where it's not something that you just can't win."
Written by: Reagan Cofield