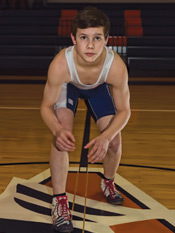 Sports typically rewards great size and strength. Should an aspiring student-athlete find himself deficient in either area, his chances of success on the field of play often become all the more difficult. Miles Parramore, a freshman wrestler at Valwood, has turned things upside down. His lack of size and brute strength helped lead him to an individual state title in wrestling this year.
When Parramore was in the fifth grade, he found himself with a choice to make. If he was going to play sports at Valwood, it was time to choose a particular activity. Football and basketball were out of the question; A scant 64 pounds, Parramore was too small for either sport. There wasn't much more to choose from that fall so he decided to try wrestling. Most people don't realize the difficulty of amateur wrestling. The violence may be quite controlled but the conditioning and workouts required to become a great wrestler are punishing.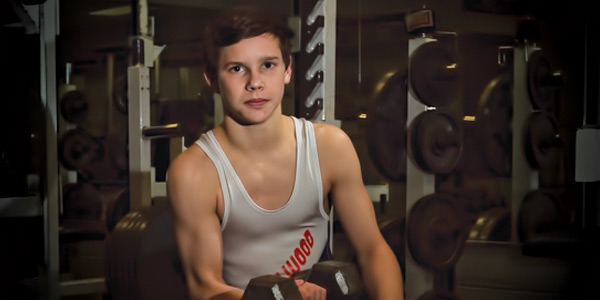 Despite the difficulty of the sport he chose, Parramore quickly started improving. To get even better, he joined the South Georgia Athletic Club Devil Dogs, a local USA Wrestling club. "Miles really advanced when he started in the USA Wrestling program. He was at a disadvantage because some of those kids had been wrestling since they were very young. Each year, though, Miles has closed the gap," says his father, Todd Parramore. Last season, the final year Parramore could compete in folkstyle wrestling in the USAW program, he finished second in the state.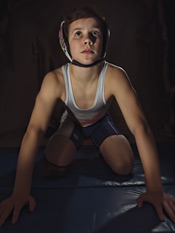 This season, his first at the varsity level, Parramore had two bold goals: to go undefeated and win a state championship. A secondary goal that hinged upon meeting the first goal is to win four consecutive state championships while at Valwood. "We knew the first one would be the toughest but we felt all along that he could do it. We knew that the experience he gained all these years with the Devil Dogs would really be an advantage for him," says his father.
Parramore expresses a quiet confidence when he discusses his goals. "I knew all along I could do it. I didn't think it would be easy but I knew I could do it."
Parramore, wrestling in the 106-pound class, locked horns with four seniors throughout the season, all of whom he dispatched fairly easily. He faced a senior from Weber, a pretty good wrestler who had finished second in the state in the past, in the state finals. The match was Parramore's most difficult test of the year, yet he still pinned him early in the second period. "He gave up four points in the match, which was the most he had given up all year," says his father.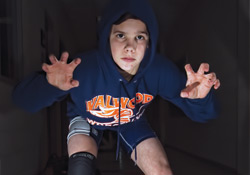 As for Parramore's future in wrestling, neither he nor his father is looking too far down the road. Parramore would like to keep wrestling for the Devil Dogs. He now wrestles freestyle-Greco, to which his father gives credit for helping Parramore develop into a state title-caliber wrestler. "If a young man is going to become a great wrestler, he will have to wrestle freestyle-Greco. That's a big part of the reason why Miles has become such a good wrestler," says his father.
Parramore has also wrestled for Team Georgia and would like to continue as a part of that squad. Other than that, he would like to continue to hone his craft and get better each year. "I don't have any big plans for the future. I just want to keep wrestling," says Parramore.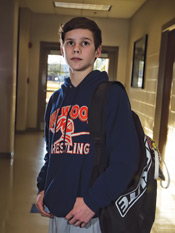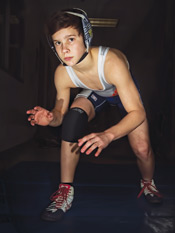 To help with his overall conditioning and strength, Miles Parramore has been doing CrossFit. The workouts emphasize functional strength and tie cardio into weight training. Miles Parramore and his father Todd feel the CrossFit workouts have given him an edge over his opponents. As Parramore moves forward, CrossFit will definitely remain a staple of his workout regimen.
---
Freshman Focus/South Georgia/March 2014
Miles Parramore
Valwood School
Valdosta, Georgia
Robert Preston Jr.
Undefeated Valwood freshman wrestler wins state championship
https://itgnext.com/wp-content/uploads/ITGNext-logo-Black-and-Cyan-300x186.png
0
0
admin
https://itgnext.com/wp-content/uploads/ITGNext-logo-Black-and-Cyan-300x186.png
admin
2014-03-10 20:21:51
2014-03-10 20:21:51
Undefeated Valwood freshman wrestler wins state championship