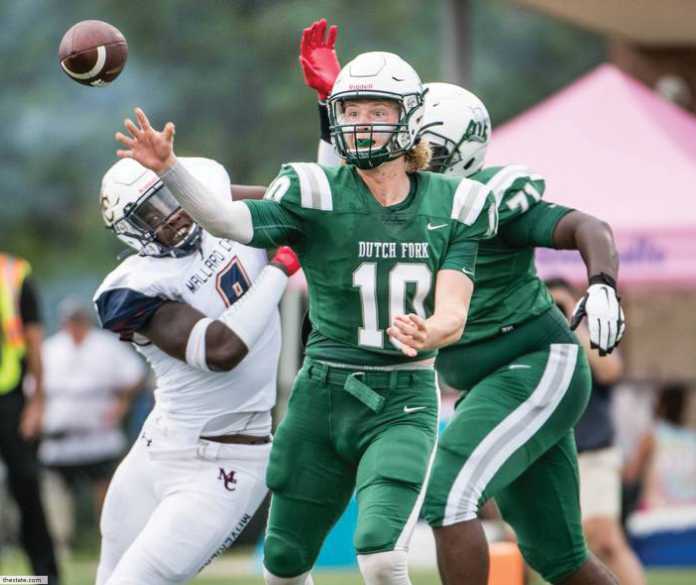 Dutch Fork Football's Undefeated Streak
Dutch Fork has consistently found its way into the top 25 national football rankings year after year. In fact, the Silver Foxes have only lost one game since 2015, when they went 9-4 and still reached the state quarterfinals. Dutch Fork has won four straight state championships and has become the premier program in the state of South Carolina. However, what may be most impressive is their four-season long win streak.
It started in September of 2017 against River Bluff. After coming off an unusual loss to Fort Dorchester, the Silver Foxes rattled off 12 straight wins and were rarely challenged. In the state championship, Dutch Fork survived a strong Dorman team 28-27 to claim their second state title in a row. The Silver Foxes carried that momentum into 2018, as they started the season outscoring their first three opponents 184-7. In what quickly became one of the greatest Dutch Fork seasons of all-time, the Silver Foxes rolled through their schedule, scoring at least 47 points in every game and allowing no more than 28. This extended their undefeated streak to 25 games heading into the 2019 season.
Dutch Fork's 2019 season opener would be played against Mallard Creek (NC) on ESPN. The Silver Foxes got off to a strong start, but faltered in the second quarter, which allowed Mallard Creek to claim a 20-14 lead. Just 7 seconds before the half, however, Dutch Fork tied the game with a touchdown pass (and a missed extra point). Midway through the third quarter, Dutch Fork reclaimed the lead, but Mallard Creek promptly answered with a score of their own. With 9:54 left in the fourth quarter, the Silver Foxes sent a field goal wide left, keeping the game tied at 27. Why would this be important? Because just four minutes later, the game would be canceled due to lightning with the score 27-27. The game would be ruled a tie. Dutch Fork's undefeated streak would continue, but they would not be perfect.
With an easier schedule the rest of the 2019 season, the Silver Foxes cruised to another undefeated campaign. They once again met Dorman in the state championship and survived 34-31 in overtime. The streak now stood at 39 games unbeaten.
2020, often referenced as the "COVID season", posed no challenge for Dutch Fork. They only played two non-region games, which certainly helped their cause. It likely would not have mattered anyways, as the Silver Foxes won every game by at least 21, adding to their dominant streak. So far, Dutch Fork is 7-0 in 2021, which sets their unbeaten streak at 56 games dating back to 2017.
While Dutch Fork's streak is certainly not the longest in the nation, it carries an impressive weight. The only question that remains: how long will the Silver Foxes keep the streak alive?
Written by: Dhruv Mohan