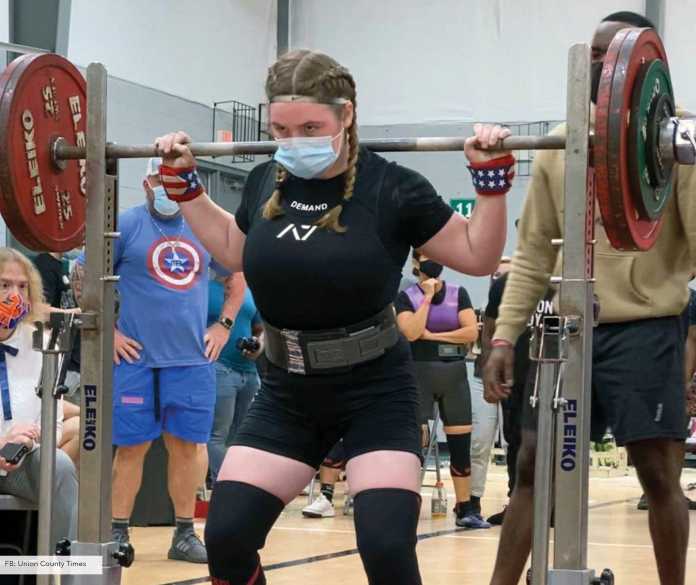 Courtney Comer, two-time USA Powerlifting Champ, is set to compete in the Florida girls high school weightlifting tournament this weekend. 
Comer qualified for Worlds in 2020 with her team at Union County High School. She has since transferred to Bradford County High School to follow her coach, Bryan Griffis.
"Where coach [Griffis] was going, I was going. It was a loyalty thing," says Comer. 
Griffis, the inspiration behind this transfer, is the reason why Courtney began weightlifting. She met the coach when her sister competed against one of his lifters. Two years later, she moved to Rayford, Florida and began working with Griffis. Comer came into the sport due to personal reasons, and Griffis motivated her to continue. He later invited her to begin powerlifting, leading her to win her very first meet and she eventually fell in love with the sport. 
"He wants the best for you and he pushes you every day," says Comer. "Not every coach can do that one-on-one with you…have talks about life in general, even outside of the gym. His drive and adrenaline keep me going."
250 light weight breaks @FHSAA girls weightlifting records in 169‼️class 2nd state ring chasing @coach4kindness @CHHS_Powerlift @JewellPWLFT @IHSPLA @MidlanduPower @OttawaU_Pwrlift @NPIDRecruiter @McKendreePL @abcampbell69 @bmcpowerlifting @Falcon2strong @Coach_Williams1 @itgnext pic.twitter.com/q5GfkgHmif

— Courtney Comer (@LiLTANK_04) December 17, 2021
Courtney is a very dedicated athlete, practicing often and currently balancing both high school weightlifting and powerlifting. She enjoys different parts about both sports and teams.
"Powerlifting is a different environment. It goes to a different extreme, I like it a lot," Comer explained. "I love the connection I have to the weightlifting kids from the school and the county. We all come together as a family when we are in that gym. All of us push each other to our max… we want the best for each other."
Comer beat the state record in 2020 as one of the strongest women in Florida at only 17-years- old and has won two national powerlifting meets. 
She names Jen Thompson as one of her major influences, along with her teammate Mahailya Reeves who has set records of her own. 
17 years old @Bryankimgriffis @IHSPLA @McHenryStrength @USAPowerlifting @FHSAA @AthleticsUB @MidlanduPower @JewellPWLFT #powerlifting #Recruitment pic.twitter.com/oG9g2maJod

— Courtney Comer (@LiLTANK_04) October 7, 2021
"It feels amazing. I never thought I could get this far. Bryan and Mahailya– they motivate me, push me to the max," she said.
When it comes time to relax and recover from the heavy lifting of both sports, Comer regularly visits the chiropractor, gets massages, and even recently tried practicing yoga. 
"I believe weightlifting, just lifting at all, is a very mental sport," says Courtney, who continues to stay positive and motivated. 
Currently a junior in high school, Comer has no plans of slowing down anytime soon. She plans to graduate next year and pursue powerlifting in college. 
"I pray and I give it all to God. He gets me through. He gives me all the strength," Comer said, naming Philippians 4:13 as a source of motivation.
Courtney Comer won state her sophomore year, and is hoping to win again this Saturday. 
Front squatting on the Marrz bar 335 for a double 💪🏼 pic.twitter.com/x0riHCQbr5

— Courtney Comer (@LiLTANK_04) November 28, 2021