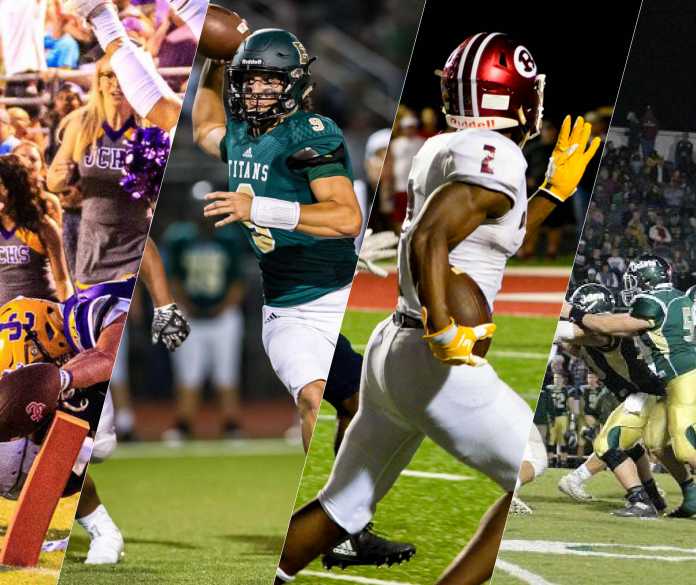 In our Class 5A Georgia football preseason rankings, we like the following teams to start the season as the ones to watch. Will they still be there at season's end? One thing's for sure: It'll be fun to watch and follow along! Let's get started.
1. Blessed Trinity
Blessed Trinity leads our 5A Georgia football preseason rankings for three big reasons.
Four-star running back Justice Haynes returns to lead the Titans offense. The junior rushed for 1,750 yards and 25 touchdowns as a sophomore last season, good for best in 5A. You can bet the heavily-recruited standout will be even better in 2021.
It is not as if teams can stack up against the run, either. The Titans' starting quarterback, JC French, is one of the best in the country, and then you have All- State two-way lineman Ryan Scott, who has committed to Army.
Former Blessed Trinity assistant Tom Hall is back to take over the head coaching job with the departure of Tim McFarlin to Fellowship Christian.
2. Warner Robins
Yes, the Demons lost quarterback Jalen Addie, but they have a more than capable replacement for the departed two-way standout. Christion Lane played meaningful snaps last season, completing 24-58 passes for 346 yards passing and four touchdowns, which included a career long 58-yard touchdown pass. Lane also plays defense and running back.
Top receiver Daveon Walker is back for his senior season before heading off to Pitt to play for the Panthers.
Another college-bound player and one of the top defensive backs in the state is Antwon Jackson. He'll give the Demons a leader and big time playmaker on defense this season.
Head coach Marquis Westbrook has led his Demons to the state finals four straight years, finally coming through with a championship last season. Players come and go, but as long as Westbrook is the coach, you can expect Warner Robins to be at or near the top.
3. Ware County
Ware County will certainly be a favorite in 5A with the return of one of the state's top quarterbacks in Thomas Castellanos. The senior signal caller will have some company in the backfield as running back Cartevious Norton returns to carry the rock this year. Castellanos will be looking for top receiving target James Daniels in the air this season.
4. Coffee
Another great coach is Coffee's Robbie Pruitt, who always finds a way to have his Trojans in the mix. Coffee will have athlete Maurice Turner back, and Pruitt says they'll lean on the young man to help out in several areas.
"Maurice is so talented, so we will use him on offense as a running back and slot receiver," Pruitt said.
The coach also tells us that Jason Swords is set to reclaim the quarterback job after tearing ligaments in his hand last offseason.
Coffee has tackling machine Anthony Gaskins back on defense, along with kicker David Vaughan. Pruitt says Turner and Gaskins have several offers, while Vaughan is headed to kick for Army.
5. Jones County
Look out for what could be the sleeper team in 5A this year. Jones County and head coach Mike Chastain will have quarterback John Allen Richter returning this season. He will have some big-time targets to get the ball to, including sophomore Zion Ragins. He had 584 receiving yards and five total touchdowns as a freshman last season.
The Greyhounds will have a stud athlete who makes plays all over the place in Javious Bond. On defense and primarily as a safety, Bond had 77 tackles, two interceptions and two fumble recoveries last season. He also contributed on offense, with 515 rushing yards and four touchdowns, plus a receiving score.
Jones County looked OK in their spring game versus Valdosta, but don't put too much stock in that performance.
6. Cartersville
Cartersville head coach Connor Foster is faced with the task of finding a replacement at quarterback after losing the duo of Carlos Del Rio and Stanton Tripp.
Whomever takes over under center, they'll have a couple of receivers to throw to in senior WR Brynen Wilkins and junior Collin Fletcher. While each player didn't put up big numbers for the Hurricanes last season, Foster says they came up with some big catches in the state title game. The head coach says he hopes that performance carries over into this season.
7. Creekside
If there is a team that is likely being overlooked this season, it is Creekside. The Seminoles return their dual-threat quarterback Nyqua Lett, along with starting running back Kam Davis and the team's leading receiver Trey Edwards. They have All American safety Rod McCrary back for his sophomore season as well.
The Seminoles have several other highly recruited and seasoned defenders returning this year, and with all that talent, it would be wise to keep an eye on the Seminoles in 2021.
8. Calhoun
Calhoun, with such a strong tradition, will find a way to be among the best in 5A, and this year is no different.
The Jackets will return starting quarterback Christian Lewis, along with a couple of his primary receiving targets, Cole Speer, and Quin Smith. Both Speer and Smith are three year starters. Another three-year starter is offensive lineman Kendrick Kirby, a Class 5A All-State selection from a year ago.
Nothing beats experience, and Calhoun and coach Clay Stephenson have quite a bit with the aforementioned returners.
9. Woodward Academy
As a football fan, you've heard the term "bell cow." That term is used to describe the lead back on a team's offense, or the back that will likely receive 70% of the team's carries.
It's safe to assume that Woodward Academy's four-star running back Damari Alston will become the team's bell cow this year. He was the third-leading rusher in 5A last season with a little over 1,500 yards. After receiving close to 55 offers, he has just committed to Auburn University, where he will remain a War Eagle.
Look for head coach John Hunt to run his offense through Alston, and who could blame him?
10. Starr's Mill
Starr's Mill will return a lot of talent on offense, while the defense, which gave up just 89 points last season in 11 games, will have four-year starter at safety, Cole Bishop, returning. His leadership, along with the firepower back on the offense, should make Starr's Mill a team to watch this year in 5A.
Quarterback William Yarborough returns, along with all three running backs in Dorsey Benefield, Brandon Mathis, and Greigh Joseph.
Beware of these Panthers with head coach Chad Phillips leading the charge for another region championship – and maybe much more.
That's a look at our preseason Class 5A Georgia football rankings. Now, let's sit back and enjoy watching it all unfold.
Written by: Phil Jones