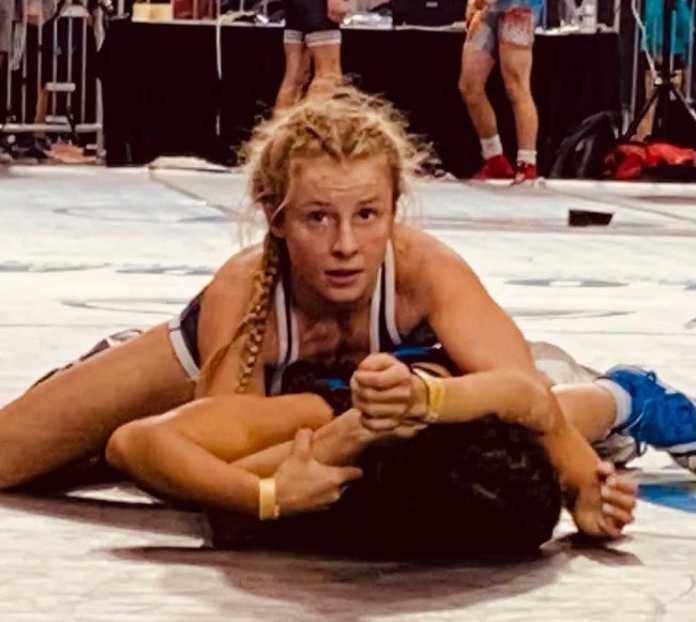 It's Called Wrestling, Not Boys Wrestling: Brielle Bibla Proves Wrestling Is for Everyone
Brielle Bibla. Learn the name, memorize it, write it down — it's one to look out for. 
Bibla is an up and coming female wrestler in the Jacksonville area. Last season she came in fifth place at the Girls Wrestling State Championship, and she has no plans of slowing down. 
"It felt amazing to be recognized for all the hard work I put into this sport. Yes, I placed, but I don't consider myself a great wrestler yet," she said.
Bibla started training in martial arts at the age of 8. She started out in Brazilian Jiu-Jitsu, and once she hit high school, she moved into wrestling.
"Before wrestling, I always wanted to go to the UFC, so all of the big title fighters: Connor McGregor, Ronda Rousey, and Khabib Nurmagomedov," she said. "Now with wrestling, I have people that inspire me more like Jordan Burroughs and Ben Askren."
She has been wrestling for one year and competes with Nease High School. 
Despite being involved in Jiu-Jitsu since she was eight, she still faces many challenges in wrestling, one being going against boys. 
Boys are bigger and stronger, but technique is by far the most important," she said. "I have to go out there and wrestle my match and not think about their strength or experience. While I began wrestling guys, it is now being perfected by girls."
"Competing in a male-dominated sport is humbling. It takes a good work ethic to get yourself where you have to be. Males were the ones that started this sport," she said. "Girls have to work hard, if not harder to compete against the boys to prove they deserve to be on the mat with them. Hard work is essential to dominate, to win, to be extraordinary."
Check out the rest of her story in our Northeast Florida Spring 2021 magazine right here for FREE!