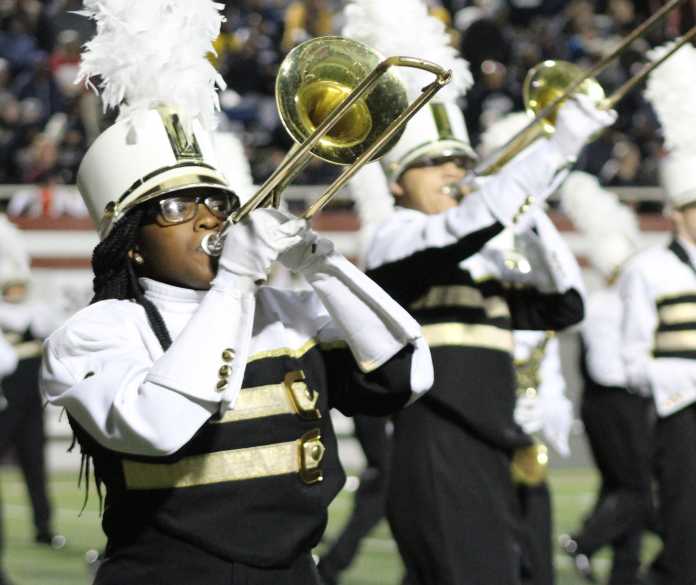 Everyone knows about the nation's best football teams, such as Mater Dei, St. John Bosco, IMG Academy, and others. But what about the other performers on Friday nights, the ones who take the field at halftime? How are they judged? Is there a definitive ranking of the best high school marching bands in the nation?
America's top marching bands compete annually at Bands of America's Grand National Championship in Indianapolis. After several qualifying rounds, 12 bands perform for the last time on Finals Night, where they are ranked based on music performance, visual performance, and overall general effect. In 2021, seven groups stood out from the rest.
Instead of exploring the marching bands behind the nation's best football programs, we thought it would be interesting to flip the script. Here, then, is a look at America's seven best high school marching bands and the football programs at those schools.
1. Broken Arrow (OK)
After ranking second in 2017 and failing to qualify for Finals Night in 2019, Broken Arrow returned with a vengeance in 2021, seizing the title from favorite Carmel (IN) with an outstanding score of 98.250. However, the Tiger football team hasn't quite broken through since winning the state title in 2018. They have lost 11 games over the past three seasons, failing to find success against foes Union, Jenks, and Owasso, who have consistently been playoff obstacles for the Tigers.
2. Carmel (IN)
Carmel has racked up four championships since 2010 at Grand Nationals, but couldn't replicate that success in 2021, posting a score of 97.050. The Marching Greyhounds are one of the country's best high school marching bands thanks to their mastery of the fundamentals, something the football program has also aimed at accomplishing. Carmel, which has produced some top basketball talent, has averaged around two to three football losses per season, but took a step forward last year with quality wins over Trinity (KY) and King (MI). They likely will hover around the nine-win mark this season as well.
3. Avon (IN)
Avon managed a score of 96.65, good for third at last year's championships. They placed second in 2019 with an almost identical score, and may have been a close runner-up if not for Broken Arrow's near-perfection. While the Marching Black and Gold are a standard in consistency, the Oriole football team has been the exact opposite. Avon suffered a massive fall from grace last season, winning only one game just two years removed from three consecutive nine-win seasons.
4. The Woodlands (TX)
The Woodlands improved greatly in 2021, jumping from their usual eighth or ninth place to fourth with a score of 96.200. A slight improvement in music performance may have even catapulted them into the top three. Just like the marching band, the Highlanders noticeably improved, going from 5-4 in 2020 to 8-3 in 2021, and standing up to tough competition like Katy and Bridgeland. With quarterback Mabrey Mettauer returning as a junior, there may be hope for an even better season in 2022.
5. Flower Mound (TX)
After failing to make Finals Night in 2019, Flower Mound returned with a top-five showing and a score of 95.400 in 2021. They managed to outscore Broken Arrow in music performance as well. However, the football program has been less successful the past two seasons, losing more games than they won. Much of that, though, is due to a tougher schedule that has featured stalwarts like Highland Park, Lewisville, and Denton Guyer. Losing four-star QB Nick Evers to graduation may continue to hurt those win totals in coming seasons.
6. Marcus (TX)
The third of four Texas schools on this list scored 93.275 at last year's Grand Nationals, falling over two points behind Flower Mound, whom they share a home city with. Unlike the Jaguars, though, the Marauders had a successful 2021 football season, going 8-3 and defeating Lewisville. Flower Mound holds the head-to-head advantage over Marcus, which surely will be on the Marauders' minds when they meet later this year.
7. Claudia Taylor Johnson (TX)
CTJ continues to slowly work its way into the top five, posting a score of 92.700. While the school may be famous for having one of the best high school marching bands, its football team also has also been excellent recently, winning 19 of their last 22 games. The Jaguars' downfall may be their weak strength of schedule, as they fell in the first round of playoffs last season despite going undefeated in the regular season. Adding insult to injury, the Jaguars' star running back, Benjamin McCreary, graduated after a historic senior season that included more than 1,500 rushing yards and 23 scores.