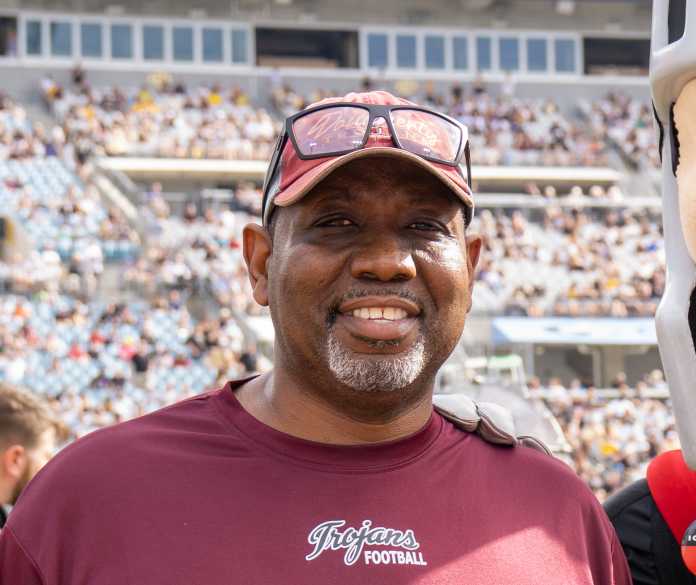 This week we visit with Dougherty head football coach Johnny Gilbert, who has turned his team around in less than two seasons, taking a program that struggled in a winless, Covid-shortened 2020 season to a unit that was in the mix for a state title last year. What's in store for Trojans fans this season? Let's find out from the coach himself.
Q: Coach, some people may not remember the Covid year when you guys weren't even able to play a full season (like many other schools), and the games your team did play did not result in any victories. How difficult was that for your Dougherty football program to keep morale up?
A: It was very tough for the program because we had so many different restrictions that we had to follow, namely, GHSA had protocols and our district also had protocols. Also, it was tough keeping the players and families together with so many being people affected by Covid with serious illness and even death.  
Q: Let's now move to the following season,
when you regrouped
and led your Dougherty football team to a 10-3 season, with a
2-point loss to Carver-Columbus
in the quarterfinals. What did it take to bring your team from where you were in that 2020 season?
A: After the restrictions were lessened, the players desperately wanted to play, because they had lost five games and they did not want to lose their entire season. Those five games were a building block for the 2021 season. Coming out of that shortened season and being able to play a full schedule, the players were all very excited to get back to football. That was a big booster for us going into that season because the kids rededicated themselves to the program and really wanted a successful season, especially the seniors. Their dedication, commitment and discipline was the reason for our 10-3 success.
Q: You have one of the most electrifying young quarterbacks in the state in Kam Davis. He is surrounded by a great supporting cast, also. Can you talk about the guys who are the leaders on your Dougherty football team?
A: I agree, Kam is a very electrifying part of our team and a great football player. Our leadership comes from our senior group. The baton that has been passed down to them from last year's seniors makes them determined to make this season an even better one. They saw the success they can have when the seniors step up as leaders of the team.
Q: Coach, can you reflect on the start to the season so far with an undefeated 5-0 record? What's the message to the team for the rest of the way?
A: This group of seniors has a mandate on them from last year's seniors to get to game number 15 – the state championship game. Since last year's group finished 5-0, this year's group is looking to go further this year. It will be important for us to stay focused on our goals one game at a time. I believe this team has what it takes to go to that game number 15. Go Trojans.