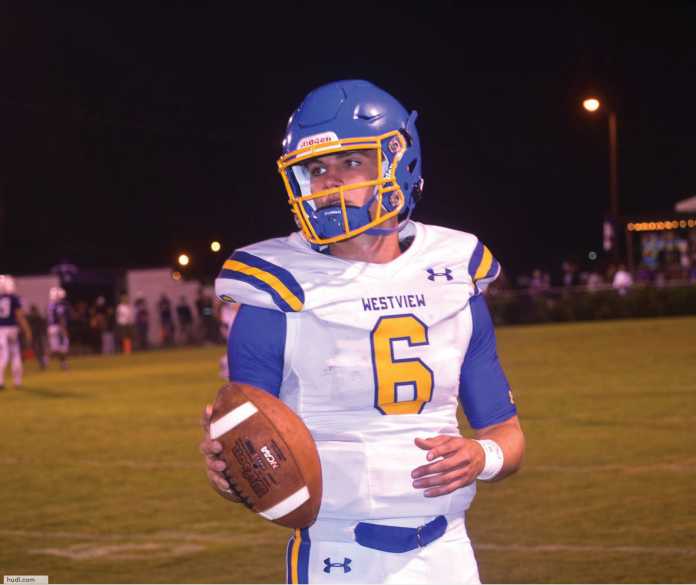 2022 Football Recruits Committed to Alabama
There is no question that Alabama is one of the best programs at recruiting in the country. Constantly in contention for the nation's top recruiting class overall, it's clear as to why the Crimson Tide are constantly competing for national championships. The Class of 2022 will be no different than previous years. Already displaying six current commits, Alabama sports the No. 17 recruiting class in the country, while they are also in the mix for numerous other top recruits. Here's a look at 2022 football recruits currently committed to Alabama.
QB – Ty Simpson – Westview (TN)
Leading the Crimson Tide's 2022 class is five-star quarterback Ty Simpson. Simpson attends Westview High School in Martin, Tenn., where he is rated among the top five quarterbacks in the country, and he displays the ability to make exciting plays both in and out of the pocket. Simpson threw for over 1,800 yards and 20 touchdowns while also rushing for 300+ yards and seven touchdowns, leading Westview to a second-round Tennessee Division 1 Class 3A playoff appearance during his junior season.
RB – Emmanuel Henderson – Geneva County (AL)
The other current five-star commit in Alabama's 2022 class is in-state running back Emmanuel Henderson. Henderson has impressed the past two seasons at Geneva County where he has totaled almost 3,500 yards and 56 touchdowns during the last two seasons. A multi-sport athlete, Henderson was selected to the Alabama 2A First Team All-State team as a junior, leading Geneva County to a second-round playoff appearance.
ILB – Robert Woodyard – Williamson (AL)
The first player to commit to Alabama for their 2022 signing class, Robert Woodyard is one of the top true inside linebackers in the country. Woodyard, a four-star prospect, has shined for in-state program, Williamson, on both the football field and basketball court. After not playing much during 2019 due to an injury, Woodyard totaled 124 tackles in 2020, earning himself a spot on the Alabama Class 4A First Team All-State team at the linebacker position.
DT – Jaheim Oatis – Columbia (MS)
The most recent commit in the Crimson Tide's 2022 signing class, Jaheim Oatis has the potential to be dominant on the defensive line. Standing at six-foot-four, 349-pounds, Oatis is rated as a four-star prospect as well as one of the top players in the state of Mississippi. Oatis totaled 68 tackles, 18 TFL, four sacks and four forced fumbles during the 2020 season. 
DE – Walter Bob – Acadiana (LA)
A player in this class that is starting to get more attention on a national level is Acadiana defensive end Walter Bob. A three-sport athlete, Bob is rated as a four-star prospect and can line up at multiple positions along the defensive line. Bob helped lead Acadiana to a Louisiana 5A state championship while also totaling 54 tackles, 18 tackles for loss, nine sacks and two forced fumbles.
TE – Elijah Brown – Wayne (OH)
The lone pass catcher in Alabama's 2022 signing class is Wayne (OH) tight end Elijah Brown. Brown is rated as a four-star prospect, and he is one of the top players in the state of Ohio. At six-foot-five, 230-pounds, Brown presents a match-up nightmare for opposing defenses, while also showing strong blocking abilities.
Written by: Matt Melton