Player Spotlight/Coastal Georgia/November 2013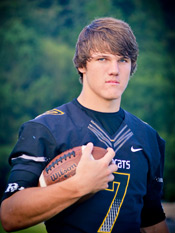 Nick Fitzgerald
Richmond Hill High School
Richmond Hill, Georgia
Robert Preston Jr.
Wildcats quarterback headed to Mississippi State after just one year under center.
Football is often a game of opportunity. Players don't get many chances to make an impact. When your number is called, you better make the most of it. You don't get many second chances on the gridiron. Richmond Hill senior quarterback Nick Fitzgerald knows this all too well. He has been presented with a tremendous opportunity this season, and he's not about to let it go to waste.Fitzgerald, a 6'5", 210-pounder, is one of the most versatile players on the Wildcats' roster. Upon arriving at Richmond Hill High School as a freshman, he had been chosen as the Wildcats' quarterback of the future.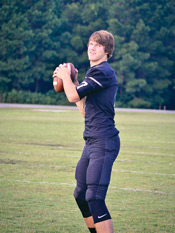 There was, however, one obstacle standing in his way – a dual-threat quarterback with tremendous talent (he is now at Air Force). So Allen, who was one year ahead of Fitzgerald, had a lock on the quarterback position as long as he stayed healthy. If Fitzgerald was going to see the field, he would have to do so at another position. He played some special teams and safety, but eventually found a home as Allen's primary target at wide receiver. Last year, his coaches also had him run the second team offense in practice. Likewise, Fitzgerald dropped down to the junior varsity a few times so he could play quarterback. Fitzgerald proved to be a reliable receiver for Allen.
In the Wildcats' run-oriented triple option attack, Fitzgerald caught 18 passes for 400 yards and seven touchdowns. He also used the opportunity at receiver to study opposing defenses from another point of view. "You can see the defense better as a wide receiver. You get another look at how the safeties and cornerbacks move around on certain plays. It's definitely helped me read coverages," he says.The Wildcats enjoyed their best season in a long time last year. They won eight games and made the playoffs but ended up losing a close one in the first round to Warner Robins. Heading into the 2013 season, Fitzgerald and the rest of the Wildcats wanted to pick up where they left off the previous year. So far, they are well on their way of accomplishing their goal. At the time this story was written, Richmond Hill was 4-0 and hadn't really been tested. Fitzgerald had indeed made the most of his one season under center – six of his nine completions were touchdowns and he had 49 rushes for 480 yards and 11 touchdowns. Given Fitzgerald's size and speed (he runs a 4.8 40), he always knew he could play football in college. He just didn't know exactly where he would end up. Two years ago, letters from smaller programs started coming in. Once again, the opportunity was there; he would just have to make the most of it.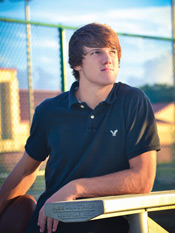 This past summer, as he was preparing to lead the Wildcats' offense, Fitzgerald attended several different camps that featured coaches from larger schools. Mississippi State had come to the table in the spring and invited Fitzgerald to a camp in Starkville. He attended and right after the camp, the Bulldogs offered him a scholarship. "I wasn't that surprised. They were pursuing me the most," he says. Fitzgerald thought Mississippi State would be a good fit all along – head coach Dan Mullen is a respected head coach who has a knack for developing quarterbacks. Fitzgerald also enjoyed meeting with the players and coaches. "Coach Mullen is one of the best in the country. I really want to study under him," he says.Fitzgerald plans to graduate early from Richmond Hill then report to Mississippi State in January. With so much going on, it would be easy to let all the attention distract him from the task at hand. However, he refuses to let that happen and is committed to his Wildcat teammates. Fitzgerald takes his role as Richmond Hill's leader very seriously and he isn't about to let anything derail the Wildcats' plans for this season. "One day last year, my head coach called me into his office and said he wanted to talk to me. He told me that I would be a great leader but I had to learn to serve first. That really stuck with me and it has compelled me to be better for my team," he states.So far, Nick Fitzgerald has been about as good for his team as anybody could ask.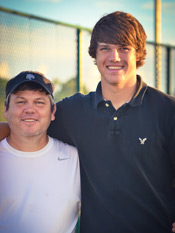 Nick Fitzgerald also played basketball and baseball. In particular, he enjoyed playing baseball and actually began that sport before he took up football. A couple of years ago, though, the writing was on the wall – Fitzgerald's future would be in football. Reluctantly, he gave up the other sports so he could focus on football. "It was a difficult decision. But I was better at football and I knew that's where my future was. It turned out to be the right decision," he says.
Favorites:
• Subject: Weightlifting
• Snack: Chex Mix
• Healthy food: Honey roasted peanuts
• Sport to watch on TV: College football
• College team: Mississippi State
• College player: Tyler Russell
• Pro team: Patriots
• Who would you most like to meet? David Green. "He was a phenomenal college quarterback and anyone who knew him would tell that he was an ever better leader for his team."
• If you could have a superpower what would it be? X-ray vision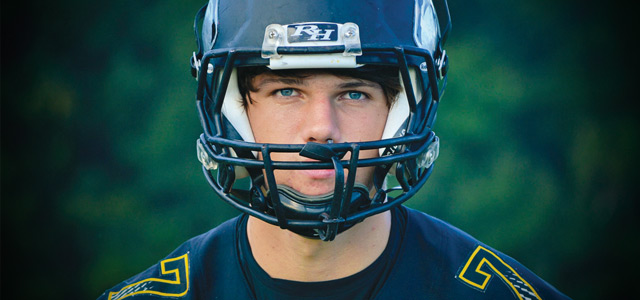 https://itgnext.com/wp-content/uploads/ITGNext-logo-Black-and-Cyan-300x186.png
0
0
admin
https://itgnext.com/wp-content/uploads/ITGNext-logo-Black-and-Cyan-300x186.png
admin
2013-11-04 18:43:00
2013-11-04 18:43:00
Wildcats quaterback headed to Mississippi State