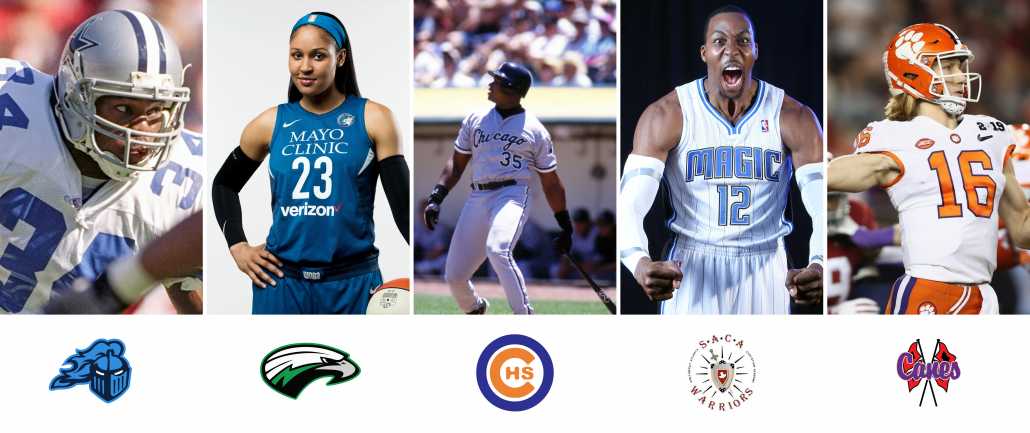 Georgia continues to supply some of the best athletic talent in the country. From Walt Frazier to Herschel Walker to Trevor Lawrence, the best of the best have come from the Peach State. But who is the best? We rank the top five Georgia high school athletes of all time based on their high school success and what they meant to their schools. 
1. Herschel Walker, Johnson County High School

Herschel Walker is one of the greatest high school football players of all time. He became one of only two players to rush for over 3,000 yards in a season in Georgia state history when he finished with 3,167 yards his senior season. He finished with over 6,000 career yards and 86 touchdowns.
Walker, of course, became one of the greatest Georgia Bulldogs players ever and was named as one of the best college football players in history. He followed that by paving the way for high profile players to enter the USFL and later dominated for the Dallas Cowboys. He stands as one of the best ever even without the Pro Football Hall of Fame resume. 
2. Maya Moore, Collins Hill High School 
Before becoming one of the most decorated WNBA and NCAA basketball players ever, Moore lit up the court at Collins Hill High School. She was the second player ever to be named the Naismith Prep Player of the Year twice, in both her junior and senior seasons. As a four-year starter, she won three state championships and a 2007 national championship. She finished as Collins Hill's leader in points, assists, rebounds, and steals and finished with a 125-3 record. She also dunked for her first time at 16 years old. 
Her winning didn't stopped there; she went on to be a four-time NCAA All-American and two-time NCAA National Champion in four years, along with two Wooden Awards for Player of the Year. 
Her professional level didn't slow her down. In seven years, she gathered four WNBA championships, three European championships playing overseas, a FIBA championship, and two gold medals with Team USA. She's the greatest winner in sports history and has an endorsement from Barack Obama as one of the best basketball players he has ever played with. A true champion.
3. Frank Thomas, Columbus High School

Before becoming a two-time MVP for the Chicago White Sox in 1993 and 1994, The Big Hurt was a three-sport star at Columbus High School. Thomas hit a .440 batting average his senior season at Columbus. He was also an All-State tight end and a forward for the basketball team. 
Thomas went on to Auburn on a football scholarship and immediately joined the baseball team as well. He will always be remembered as one of the best. 
4. Dwight Howard, Southwest Atlanta Christian Academy 
Howard was one of the last players to jump straight from high school to the NBA, and he was also one of the best to do it. His senior season, he averaged 25 points, 18 rebounds, and a staggering eight blocks per game. McDonald's rated him as one of the 35 best McDonald's All-Americans ever, and he continued this trend into the NBA. 
Howard went on to be the No. 1 overall pick in the NBA Draft out of high school, and he became one of the best Orlando Magic players of all time. He won three straight Defensive Player of the Year awards and was an eight-time All Star.
5. Trevor Lawrence, Cartersville High School

Shortly before Trevor Lawrence took over at Cartersville High School, Clemson quarterback Desahun Watson broke nearly every Georgia high school record on the way out of Gainesville and was regarded as a legend in the making. 
What Lawrence did to follow it up wasn't too shabby. He and the Purple Hurricanes won 41 straight games from his sophomore to senior years. He finished with a state record 13,907 career passing yards and 161 career touchdowns. He was a two-time national Player of the Year and was compared to Peyton Manning, "except he's athletic and has a better arm," by Rivals scout Mike Farrell. 
Lawrence followed Watson to Clemson and since has continued to thrive behind a legend, losing only one game in two seasons and making back-to-back National Championship appearances.
Written by: Kyle Grondin
https://itgnext.com/wp-content/uploads/GA-all-time.jpg
2625
6250
Kyle Grondin
https://itgnext.com/wp-content/uploads/ITGNext-logo-Black-and-Cyan-300x186.png
Kyle Grondin
2020-03-24 09:35:23
2020-03-24 09:35:23
Georgia's Top High School Athletes of All Time